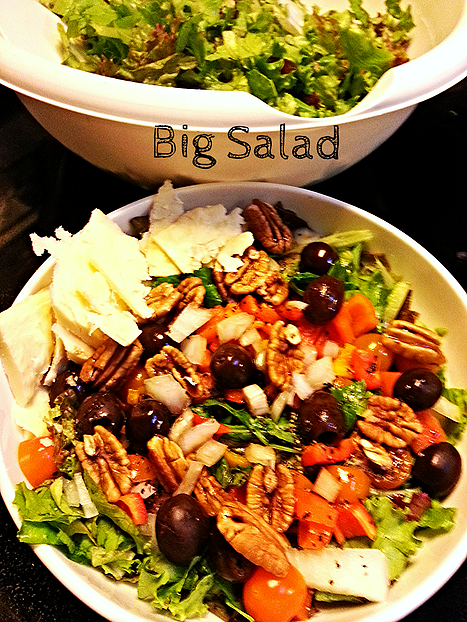 It may seem daunting at first to give up gluten.  Our society seems to practically revolve around bread!  But once you get used to it, it's really easy.  Particularly if you experience the health benefits that many people do.
Here are a few ideas to help get you started.  This list is far from exhaustive.
Breakfast
Eggs (any way you like them, including vegetable/meat/cheese stuffed omlets)
Oatmeal, instant or otherwise
Grits
Hashbrowns
Steak
Bacon
Sausage
Yogurt
Cottage Cheese
Fruit
Homemade (or other gluten-free) granola
Gluten-free packaged cereal (many Chex cereals are gf, always check the box)
Gluten-free cereal bars (many now on the market)
Gluten-free bagels/bread (homemade or usually found in the freezer at the grocery)
Lunch
(Anything from the breakfast list, plus…)
Salad (no crutons, and watch for hidden wheat ingredients in some commercial dressings)
Hamburger (minus the bun, even most fast food places now will wrap it in lettuce, just ask)
French Fries
Hot dog (no bun)
Beans and franks
Grilled Meat (chicken, fish etc)
Baked Potato
Vegetables (as long as they're not breaded)
Nacho's (make sure it's cornchips)
Hummus
Guacamole
Beans
Cheese cubes
Tuna/chicken salad
Potato chips (check packaging for hidden wheat ingredients)
Lunch meat and cheese roll-ups
Rice cakes (check labels for hidden wheat ingredients)
Soup (check label or ask establishment about hidden wheat ingredients)
Chili
Bacon/lettuce/tomato wraps (bacon and tomato wrapped in large lettuce leaves)
Fried rice (always check for hidden wheat ingredients)
Tacos (check for hidden wheat ingredients)
Nuts and seeds
Olives and pickles
Jerky
Celery with peanut butter or cream cheese
Deviled eggs
Meatballs (check for hidden wheat ingredients)
Potato salad
Sandwiches if you have gluten free bread
Leftovers from last nights supper
Dinner
This tends to be the easiest.  Simply eat what you normally would, minus bread, breaded items, pasta, crackers and cereal.
Meat (any unbreaded)
Vegetables
Rice
Quinoa
Potatoes
There is so much that you can eat without eating gluten.  Many of the food items listed aren't healthful in and of themselves, even though they don't contain gluten.  Remember, gluten-free does NOT necessarily mean healthy.
***In these "So What Do We Eat" articles, we list suggestions that comply with this food/s elimination only.  This is simply ideas, not necessarily what we now eat or view as good nutritional choices.